2022 Retrospective
31 Dec 2022 » Opinion
We made it again! With all the issues that we have faced due to the pandemic in the last three years, we have reached the end of 2022. At least I can say that this year has been better that the previous 2 years for several reasons.
Life
The highlight of this year has been my relocation from Reading (UK) to New York (USA) at the end of February. I am very grateful to Adobe and my line of managers, as I have received a lot of support from them. This has been a major life event. Living in New York is not easy, at least at the beginning, but once you find your place, it becomes much more manageable. In my case, I would say that after about 3 months, I started to feel very comfortable in my new home and have not looked back. New York is a wonderful city, with its highlights and lowlights.
Since I stayed in the same role, I did not require any adjusting. I landed on a Saturday and the following Monday I was already working full-time. It has been very easy for me to undertake new projects, meet new people (both coworkers and clients), show my value… I have had clients from different industries, but I have noticed the difference in importance: many of them are very well-known brands worldwide in their space.
It has also been my 10th anniversary at Adobe. When I look back, it does not feel that long, but if I count the things I have done in these 10 years, then it makes more sense. Never before I have stayed that long with one employer. The way I see it is that my personality fits very well with Adobe's culture.
As a consequence of all these points, after a bit over 2 years of not feeling as great as I would want, I feel much better now. Obviously, the easing of the pandemic has played a role but I guess I needed a change too.
Blog
I have continued writing with the same cadence as usual, touching on multiple topics. You will have noticed that my focus has shifted more and more from Adobe Analytics and Adobe Audience Manager to Adobe Experience Platform while keeping some generic posts. Most of my projects are now centered around this new-ish tool and it has been a very long time since I have done a single-solution implementation. The next consequence is that my knowledge of Adobe Analytics and Adobe Audience Manager is becoming rusty and I am not on top of any new features.
Since I want this blog to answer questions that Adobe clients have, I am also using inputs I receive from my own customers. Some of the posts are actually explanations I have used with my customers in the past.
As I explained last year, my complete shift to Jekyll and Markdown is paying its dividends. I love to have all my posts in this markup language and in a Git repository. I have also used my new knowledge in Markdown to switch from Evernote to Joplin for my personal notes. In fact, I am writing this post from this tool and I can then just copy and paste it into my Jekyll setup.
During 2022, more and more people have mentioned to me that they follow and use my blog. I have to admit that when someone says that, it makes my day!
Metrics
When it comes to metrics, the visits to my blog have changed little from last year:

There has been a 1.7% increase in the total number of visitors, but a slight decrease in visits (2.3%) and page views (6%), when compared to last year. I am not sure how to interpret these values, other than more people are coming, but they go straight to what they need.
These visitors come mainly from the USA (34%), India (21%) and the United Kingdom (6%):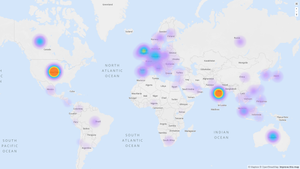 Popular posts
Finally, these are the most popular posts this year:
| Pos | Post | Position 2021 | % Page Views | Time Spent Per Visitor |
| --- | --- | --- | --- | --- |
| 1. | Introduction to the Adobe Admin Console | 2 | 3.3% | 111 |
| 2. | How to debug an Adobe Analytics implementation | 1 | 3.0% | 257 |
| 3. | The demdex cookie | 5 | 2.4% | 291 |
| 4. | Introduction to Experience Fragments | 10 | 2.3% | 287 |
| 5. | Metrics and dimensions in Adobe Analytics | 3 | 2.2% | 222 |
| 6. | Server-side Adobe Analytics | 6 | 2.2% | 393 |
| 7. | Anatomy of an AEP Project | N/A | 1.8% | 207 |
| 8. | Adobe Target Segments | 4 | 1.6% | 313 |
| 9. | Tutorial AEM-Launch Integration | 13 | 1.6% | 432 |
| 10. | Tutorial: Assets Insights | 9 | 1.4% | 794 |
| 11. | Understanding AEP Identities | N/A | 1.3% | 295 |
| 12. | Multi-tenancy in Adobe Target | 7 | 1.2% | 401 |
| 13. | Location of Adobe Edge Servers | N/A | 1.2% | 277 |
| 14. | VISTA rules | 33 | 1.2% | 437 |
| 15. | Introduction to Adobe IO | N/A | 1.2% | 179 |
My take on these results:
Significantly, the post on Introduction to the Adobe Admin Console is now at the top. I may need to write more about the Admin Console.
I am happy to see that some AEP posts, which I only wrote this year, have become popular.
It is very surprising that my post on VISTA Rules, written 7 years ago, is now in the top 15. I thought that nobody used them anymore.
My technical posts are way more popular than other types of posts.
2023 outlook
With all the changes and events I have had in 2022, I hope that 2023 is quieter. I do not have major changes in mind. There may be something though, but I do not want to mention it yet, as it is not confirmed. If it happens, I will let you know in this blog.
Happy New Year!
---
---